Click here to read on CallHub.
Donor recognition is an integral part of fundraising for many successful nonprofits. This is their sure-shot way of increasing retention rates and paving an easy route for future fundraisers.
How vital is donor retention for a nonprofit? Let's take a look at an example.
Say you have 1000 donors who give an average $250 gift in the first year. Your retention rate is 45% (the average donor retention rate as studied in 2019)
Year
Donors
Average Gift
Total Donations
0
1000
250
250,000
1
450
250
112,500
2
202
250
50,500
3
91
250
22,750
4
41
250
10,250
5
18
250
4,500
By the end of the fifth year, you collect only 1.8% of the donations you collected in the first year. Let's increase your retention rate by just 10% and see the results.
No. of donors in year 0: 1000. Average gift: $250. Retention Rate: 55%
Year
Donors
Average Gift
Total Donations
0
1000
250
250,000
1
550
250
137,500
2
302
250
75,500
3
166
250
41,500
4
91
250
22,750
5
50
250
12,500
With an increase in donor retention by 10%, you have collected nearly thrice the sum at the end of five years!
Donor retention is thus an essential job of fundraising teams.
This table of 'Why donors leave Vs. Why they stay' will help you understand how crucial it is to retain donors.
| | |
| --- | --- |
| Top 5 reasons donors leave | Top 5 reasons donors stay |
| Lack of connection with the organization | Visible impact of their contributions |
| No acknowledgment/ recognition of previous gifts | Donors receive timely thank you notes |
| Not asked to donate again | They feel their involvement is appreciated |
| Changed priorities | Personal connections |
| Changed financial situation | They trust your organization |
As an organization, you cannot change the latter two reasons donors leave. However, it is well within your powers to act on the connection, appreciation, and timely appeals to donors. Sometimes, the solution to all three problems is one- effective donor recognition. Incidentally, intelligent appreciation also enables all points of why donors choose to stay.
Quick Summary:
What is donor recognition?
Donor appreciation or recognition is a way to thank donors, celebrate their support to you, and philanthropy in general. It strengthens your bond with your supporters and can help in reducing attrition rates. This can be done through
Appreciative Actions (text messages, phone calls, online donor recognition posts) or
Gifting Items (personalized gifts, awards)
For effectiveness, your donor recognition programs must be three things at all times:
Timely
Respectful
Personalized
Why should you recognize a donor?
Despite knowing the importance of donor recognition, not all nonprofits are successful with it. Consider the following statistics:
The first time donor retention rate for nonprofits was 28.70% in 2017.
Repeat donor retention, on the other hand, was 59.88%.
This post will help your organization fall in the "good" numbers. Here we will walk you through the donor recognition best practices and ideas that you can adopt for better retention rates.
How do you say thank you to a donor?
An effective donor recognition strategy is one that resonates with your donors and makes them feel appreciated and thanked. It cannot be random, vague or daunting.
To ensure your donor recognition ideas dwell well with your supporters, there are three ways you can adopt:
Personal acknowledgment
Public acknowledgment
Honor bestowing
Let's look at different ways you can thank donors under each of these categories.
Personal Acknowledgement
A personal acknowledgment is usually the first point of donor recognition. It can be a straightforward text message or an elaborate gift hamper- depending on how far up the donor is on the ladder of engagement.
Personal acknowledgment of donors can be done via:
Text messages
Phone calls
Emails
Donor recognition gifts
The channel you use depends upon your target donors and the unique advantages they bring.
Text messages
Text messages are increasingly becoming an acceptable, even welcome form of communication among organizations and individuals.
In 2019, nonprofit text messaging audiences grew by 26%. Nonprofits, too, caught up to the trend and sent 14% more text messages to supporters than in 2018.
As an organization looking for channels for recognizing donors, this is your clue to use text messaging for donor recognition.
Target donors: Text messages are appropriate for all your donors who have shared their numbers with you. For major donors, this could be an added personal touch before you send the proportionate gift.
Advantages:
Can be extended to all donors.
A quick way of donor appreciation.
Non-intrusive yet personal and an appreciated way of formal communications.
Texting tools that may benefit you:
A P2P messaging software can help you personalize your texts and have one-on-one conversations with donors.
With MMS messaging, you can add photos or videos showing the impact of the donations or giving a peek into your cause.
Phone Calls
A 3-minute phone call can increase first-time donor retention by 30%!
However, you must remember to keep your donor thank-you calls separate from fundraising calls.
For donor recognition, you only have to acknowledge their contribution and convey the impact they are making.
Related Reading: Donor Thank You Calls: Writing the Perfect Script (Script included!)
Target donors: Depending on your donor base, phone calls can be extended to all your donors or a select few whose retention is crucial for your fundraising efforts.
Advantages:
Phone calls have about a month-long window of opportunity for contact. Calling after that may seem like another solicitation, but 30 days is adequate to check in with your donors.
Forming a personal relationship with donors becomes easy.
Call Centre Tools That May Benefit You:
If you are a small organization, a predictive dialer software may be the right fit for you. This dialer allows callers to choose the person they want to call from the list, provides their history and details for volunteers to scan through, and then does the dialing for you. Fewer chances of volunteers typing in the wrong number and fast calling in one tool!
For a medium organization, a power dialer software can speed up the process by 5X a simple manual dialer. This tool does the dialing for you, and volunteers only have to press one button to initiate the action.
Large organizations can benefit from a predictive dialer that calls up to 3X more numbers per hour. It filters out wrong numbers, dropped numbers, and connects only answered calls to volunteers.
Emails
A 2019 study showed that
Open rates for emails by nonprofits are around 20%
Spam rates are 0%
Unsubscribe rates are 0.17%
Thus, sending thank you notes to donors via emails can be a good way of staying connected with them and, in the long-run, keeping your attrition rate low.
Target donors: An email can be sent to all small and major donors. It is a formal way to share your thanks and can be sent in addition to other personalized donor recognition gifts.
Advantages:
Donation receipts can be attached to the emails
You can send long messages in a single email, detailing impact and updates on your campaign
Related Reading: Email Marketing for Nonprofits: Best Practices and Tools for an Effective Campaign
Donor appreciation gifts
Once in a while, sending a personalized gift to a supporter of your cause makes them feel valued and appreciated. This, of course, is reserved only for those who extended that level of intimacy with you.
Donor appreciation gifts are not to retain donors or solicit another gift. They are simply a token of gratitude for donors.
Target donors: Donor appreciation gifts show the depth of your relationship with supporters and are normally reserved for
Major donors
Repeat donors who have been consistent with their support or
Special occasions
Advantages:
Personalized gifts can vary in size, depending on the level of relationship. They can be a handwritten letter or a gift basket shipped to their address.
A lack of recognition or appreciation can lead to donor attrition. A token gift shows that you both recognize the donor and appreciate their contribution.
Public acknowledgment
The first rule to remember with public donor appreciation is their consent is of utmost importance. Everything else is secondary.
Once you have written permission of what details your donors are comfortable sharing, you can draw up a plan for donor appreciation events and social media tagging.
Donor wall
When the Bernie Sanders campaign hit the one million donors mark, they commemorated the occasion in an ambitious but fascinating way.
They printed the names of all these donors on a wall!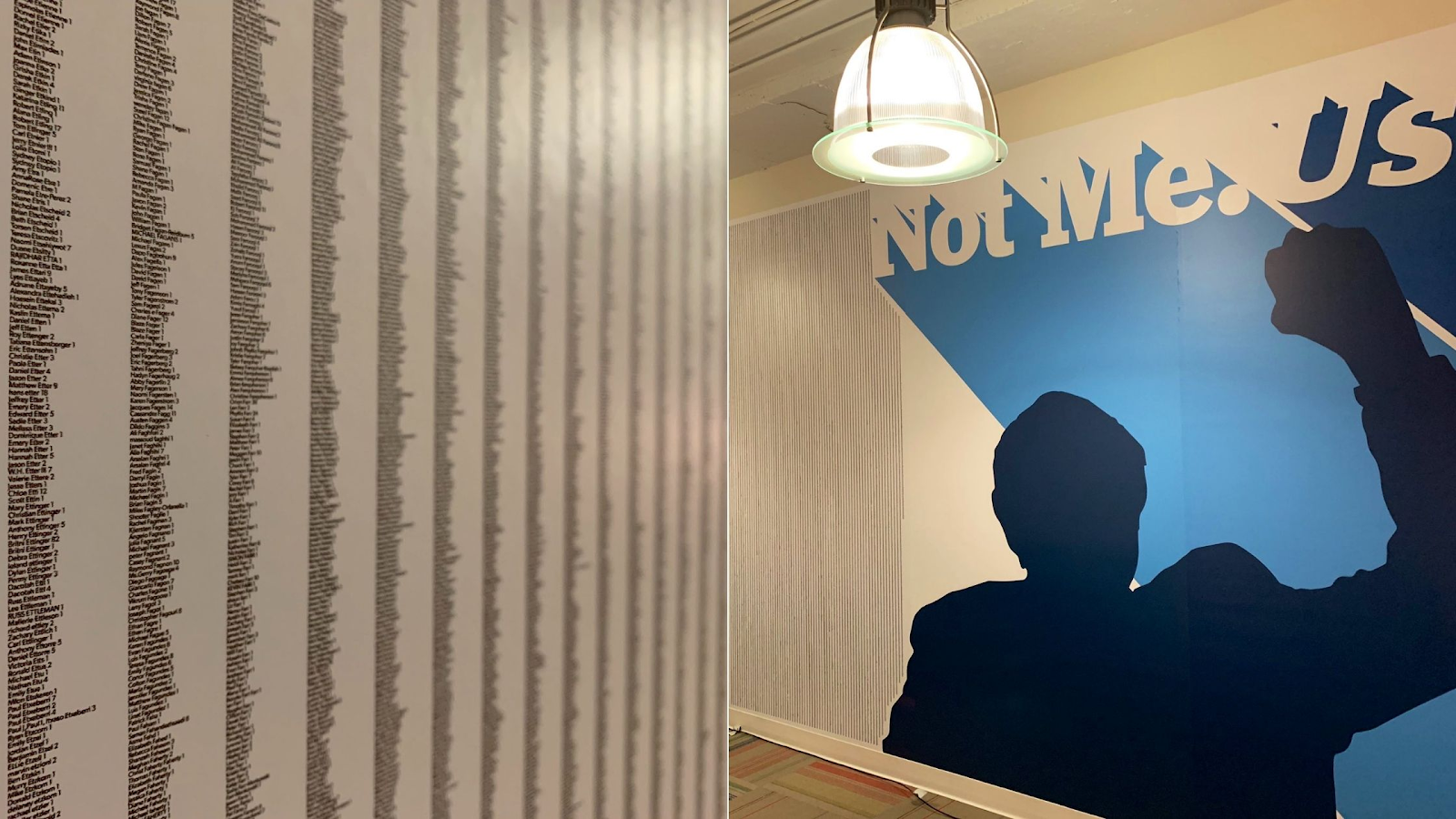 Such a donor wall can make your supporters feel appreciated- even if they are one among a million! At the same time, it shows the impact you have created in terms of fundraising.
Additionally, if you are only looking for a "hall of fame," put up a plaque or board for donation givers.
Target Donors: According to your donor base, campaign size, and budget, a donor wall can include:
All donors (who have permitted the use of their name)
Donor plaques for major supporters
Repeat (small) donors who have been a constant support
Advantages:
A donor wall can be a permanent hall of fame where you keep adding new names as appropriate.
It shows the level of appreciation for your donors without being too intrusive.
Donor walls show the impact of your work to anyone who walks in your office.
Donor recognition on social media or website
Social media is a massive platform for donor recognition. Such donor appreciation posts can be permanent (they can remain on your wall forever) and active temporarily (only new posts and those with fresh engagement turn up on your followers' feeds).
It is interesting to note that 55% of people who engage with nonprofits on social media take up some action (donation or volunteering) in the future.
Nonprofit social media posts, thanking donors, can simultaneously engage the donors' social media friends and followers.
Target Donors: All consenting supporters who have Facebook, Instagram, Twitter, Snapchat, or other social media accounts.
Advantages:
An easy and affordable way of donor recognition. Social media or website recognition leaves an online (almost) permanent print of your campaigns.
Recognition posts on your website can be shared on social media and vice versa.
Helps you reach out to others who haven't previously engaged with you.
Press releases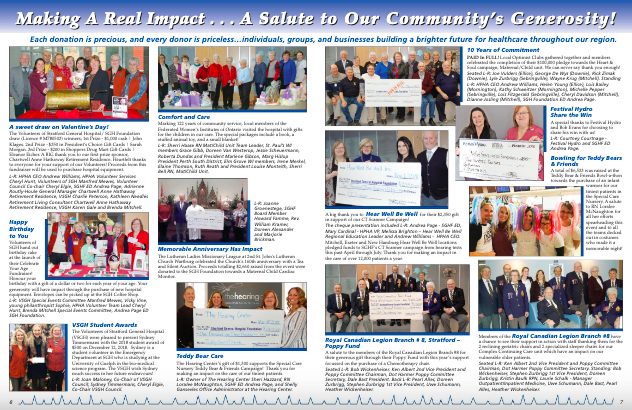 The Stratford General Hospital Foundation's donor recognition policy includes a mention of major donors in their newsletter and a press release sent to media houses within a 100-mile radius.
Such press releases allow donors to have their opportunity under the limelight and can make them locally famous!
Target donors: Repeat donors or first-time donors who show promise of retention. These individuals have made considerable contributions and have given consent for (at least) their name and photo to appear in the press release.
Advantages:
Helps you spread the word beyond your immediate support circle
If you choose local newspapers or channels, press releases can be an affordable way of advertising your organization
You can include fundraising event invitations in the press release.
Donor recognition by bestowing honor
Reserved solely for major and consistent donors, this form of public donor appreciation is:
Appropriate for long-term appreciation
Cost inducing
Bestowing honor on your significant donors needs you to clarify prerequisites, get permissions, and have a mutual understanding of the prize's nature.
Naming buildings/rooms/campaigns after donors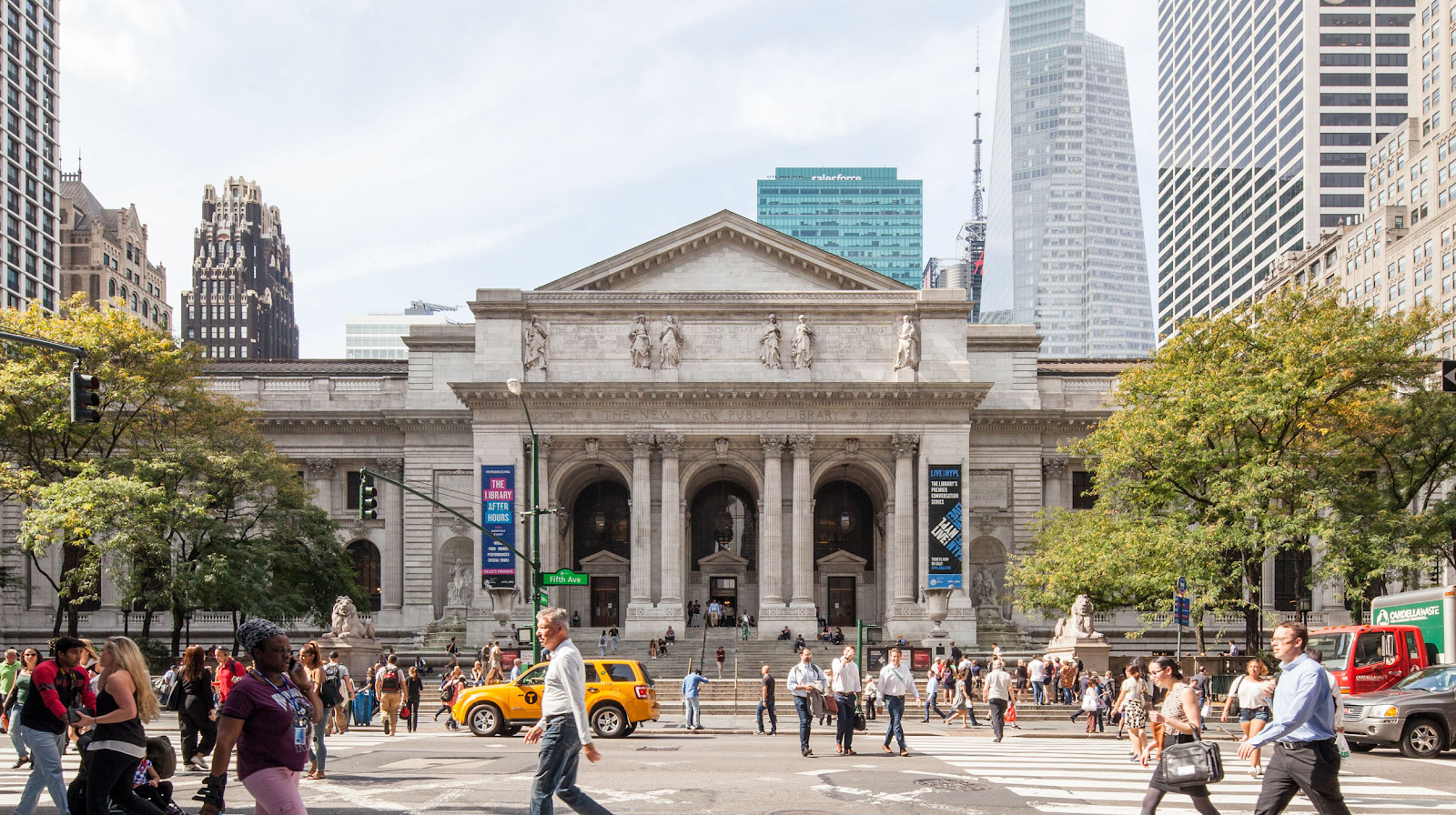 The Stephen A. Schwarzman Building of the New York Public Library is named after the benefactor who donated $100 million to renovate and expand the main building. The famous library lions were originally named after the founders, John Jacob Astor and James Lenox.
Significant donors who have created an everlasting impact on your organization, too, can be commemorated by naming a building, room, or campaign after them.
Target donors:
Supporters who have donated the most significant amount or items.
Those who have created a lifelong impact.
Memorable supporters whose work will be remembered for a long time.
Advantages:
It gives a cost-effective yet permanent honor to your lead donors.
Talks about the impact a significant donor can create.
It makes the contribution everlasting in the minds of your beneficiaries, volunteers, and staffers.
Donor recognition awards
Like naming buildings, your annual awards, too, can be named after significant donors. In later years, you can bestow these awards to supporters who have contributed in a similar fashion but on a lower magnitude.
For instance, say Ms. Taylor helped you start a volunteer management program, equipping you with the infrastructure needed for it. You can name an award category after her, making the Taylor award for exceptional volunteering a regular category in your events.
Target donors: Your target donors will be significant donors whose type of contributions will be repeated, but the amount will likely remain unmatched.
Advantages:
Acts as a positive reinforcement among new donors
Low cost
It can be replicated across several categories.
Donor Recognition Best Practices:
"Feeling gratitude and not expressing it is like wrapping a present and not giving it."
– William Arthur Ward, writer.
Just like you put thought into giving someone a gift, so do your donor recognition ideas must reflect your relationship with them. However, for it to be truly meaningful, here are some donor recognition best practices that you can follow.
| | |
| --- | --- |
| Donor recognition best practices | Donor recognition examples |
| Donor recognition should be in proportion to the generosity | A thank you text for donors who text-to-give, appreciation social media posts for recurring donors, and a personalized gift for major donors. |
| Mention the impact their contributions will create | Send an email with a personalized thank you note from a beneficiary |
| Take permission before thanking donors publicly | Ask for their social media handles when you send a thank you text. Mention that you would like to make a public appreciation post for them. |
| When sending personal messages, mention the amount they contributed | "Hey Alex, thank you for your $10 donation. This will help Mary and her baby have full meals for two days!" |
| Be timely with your donor thank you notes | Send text messages within a week, phone calls within 30 days, and personalized gifts within 45 days. |
| Build a personal connection | "Hi Brad, this is Tanvi from Warm Smiles. Thank you for donating a box of clothes last week. Your winter wear will keep 15 children warm and healthy over these challenging months!" |
Let's look at each individually and with examples.
Donor recognition should be in proportion to generosity
Here is a donor recognition example that acknowledges contributors in proportion to their gifts (from Dr. Noble Irwin Regional Healthcare Foundation.)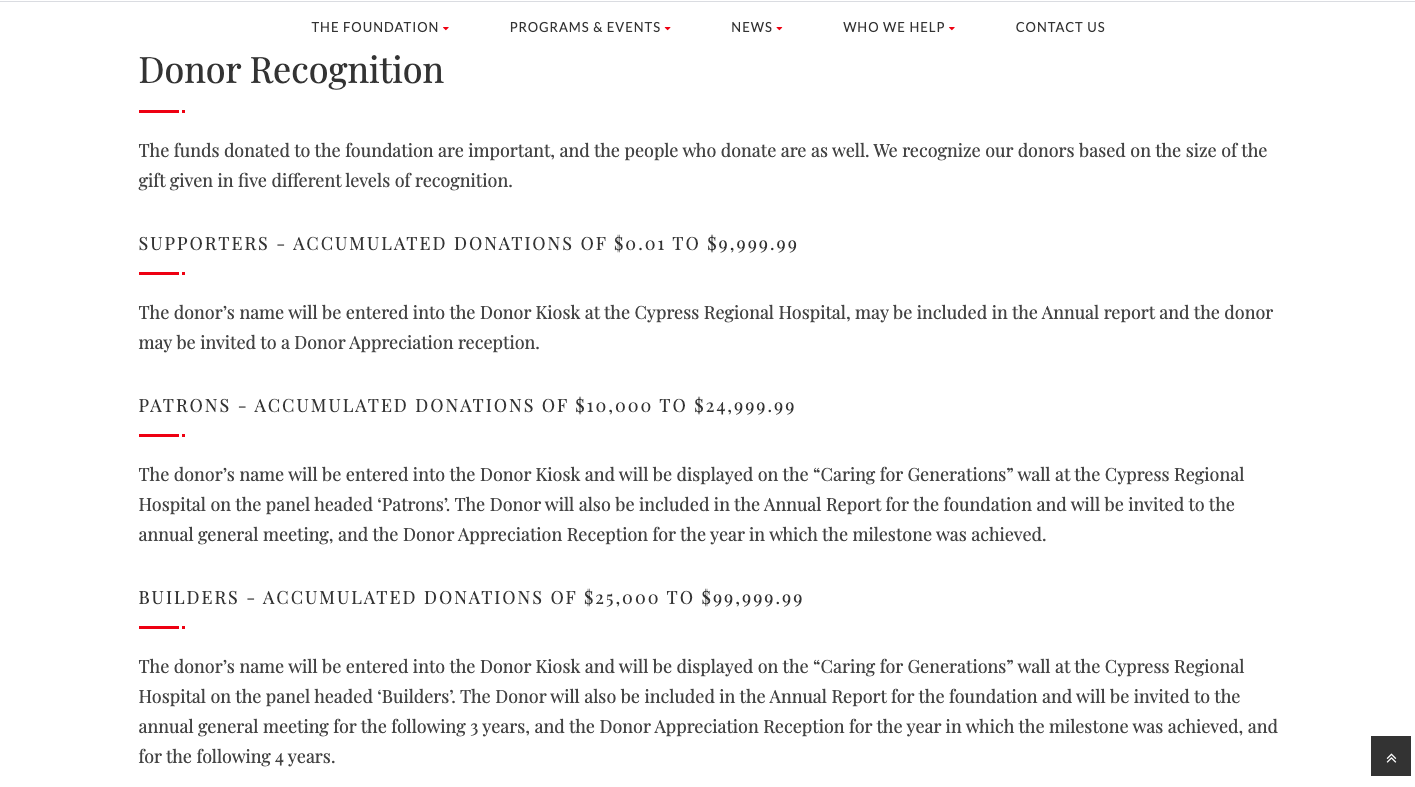 The aim of showing recognition or appreciation in proportion to their contributions is not to demonstrate partiality or favoritism towards anyone.
Rather, it is to respect the level of intimacy that supports have extended towards you.
Responding with too little can lead to discontent. Responding with too much may lead to discomfort.
Supporters sign-up, volunteer, or donate according to their level of interest in your cause. They should be thanked according to their contribution.
For example:
If a donor donates via text or online, reply with a thank you message.
If they have volunteered to your cause, give them personalized gifts (like hats, stationery, T-shirt)
If they regularly contribute to your cause, post a public thank you note on your social media handles.
Mention the impact their contributions will create
Here is an example of how Halos of Hope, a donation coordinating organization, thanks its donors.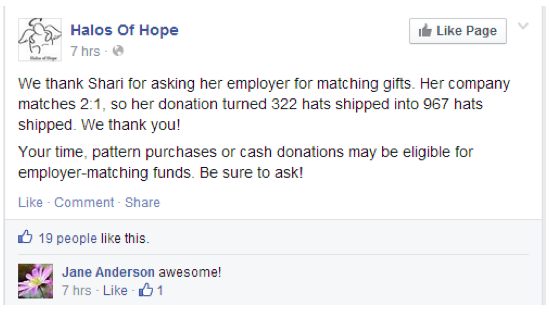 Mentioning the impact that every contribution has towards your goal can undoubtedly be tedious and time-consuming. However, it goes a step further in recognizing your donor's contribution and informing them of their gifts in the bigger picture.
In fact, a lack of information on the impact is one of the top reasons many donors choose not to give again.
Mentioning the impact can solve two purposes:
It adds specificity to your donor recognition note
It gives visibility to the work you undertake.
You can adopt this method for the first time and repeat donors. It can inspire them to contribute again.
There are multiple ways you can mention the impact a donor created, depending on your cause:
Talk about the financial impact (Eg: Your $50 gift helped towards the current collection of $1250. We only have $900 more to collect!)
Mention the personal impact (Eg: Your $50 gift will help Rhonda purchase stationery for this school year. Thank you for supporting us!)
Mention the overall impact (Eg: Your $50 gift contributes towards the rehabilitation of 100 victims of Hurricane Katrina. Thank you for your support)
Take permission before thanking donors publicly
Your donors' consent is of utmost importance before publishing their names or contribution on a public forum.
Here is an example of how you can do it via text messages: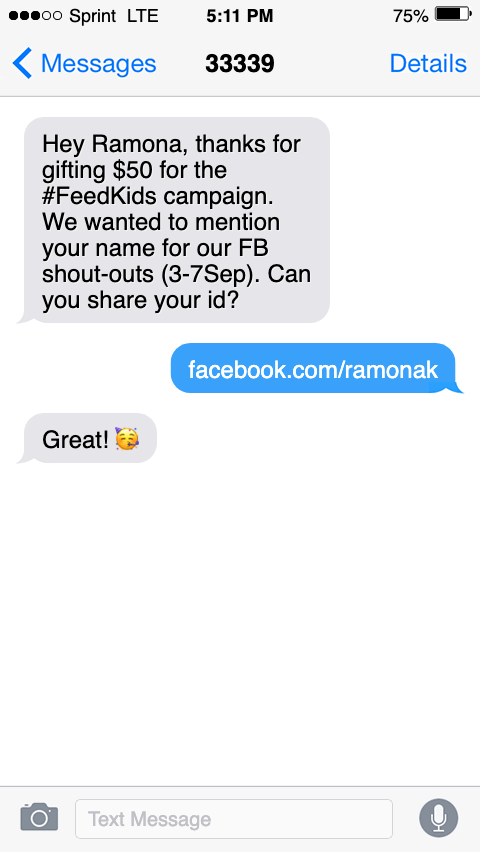 Public platforms include:
Social media
Your website
Signs or boards
Plaques
Newsletters
News Articles
Return to Insights & Events